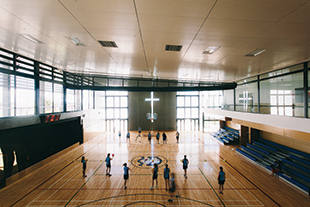 Physical Education and Health are compulsory unless students are certified as medically unfit. Swimming is part of our school curriculum and students are expected to participate. If your child is unable to participate for medical reasons, please send a letter to the PE teacher. Parents are requested to discuss any disabilities suffered by pupils at their entry interview.


Health, Physical Education and Dance Staff
| | | |
| --- | --- | --- |
| Faculty Leader | Tonya Fieldes | Health & PE |
| Teachers | Loryn Howes | Health & PE |
| | Kate Eastwood | Health & PE |
| | Sharon Davies | Health & PE |
| | Rebecca Mehew | Health & PE |
| | Teresa Rifle | Health & PE |
| | Julie Harvey | Junior Health |
| | Nicole Tsui | Dance |
Physical Education
Physical Education is a compulsory subject for Years 7 to 10. From Year 11 onwards, students may select Physical Education as an option right through to Scholarship level. Through learning Physical Education, students will gain the knowledge, skills, attitudes, and values to enjoy a healthy, active lifestyle. They will be able to apply their knowledge to actively contribute to the well-being of other people and the well-being of their communities.
Value and responsibility
Students will take increasing responsibility for their own learning and development. Inquiries may be made into the following topics: understanding different physical activity and health; understanding the body and continued enjoyment of physical activity and its social and educational value; critical reflections on the place and meaning of physical activity in students' own lives; and methods to sustain a healthy, active lifestyle.
Enhanced skills, critical action
Students will develop skills to enhance their relationships with others as they participate in creating healthy communities, by taking responsible and critical action.
Health
Health Studies begins as a compulsory part of the Years 7 to 10 Physical Education programme. Topics taught in the junior school include personal safety, hygiene, social justice, cyber safety, body image, friendships and relationships, nutrition, decision-making and resilience.
Aspects and influences
From Year 11, Health is an optional NCEA subject. Senior Health courses focus on concepts such as Attitudes and Values, Hauora, Socio-ecological perspective, and Health Promotion. Students also explore the influence of different determinants of health – political, environmental, social, cultural and economic.
Personal and societal issues
Areas of study include health issues that have an effect at a personal, interpersonal and societal level. Students will complete a mix of internally assessed achievement standards as well as externals at the end of the year. Students also have the opportunity to promote Health within the school and or community as they take action to address an issue related to well-being.
Dance
Dance is offered from Years 10 to 13 as an option. Dance students from all year levels will perform in a dance show at the end of the year. This is a fantastic opportunity for the students to showcase the work they have been doing in class. The show is also used to assess students for NCEA achievement standards.
University-approved
Dance is a university-approved subject where senior students have the opportunity to gain an NCEA subject endorsement at Level 1, 2 and 3. Scholarship is offered at Level 3 Dance. The school offers fantastic facilities for dance with a purpose-built studio. This course, at all year levels, is highly practical and provides students with a wide knowledge of dance genres and styles.
Exploring dance forms and ideas
Choreographic techniques and devices are explored and there is also a focus on the theoretical concepts of dance. Students become increasingly literate in dance as they engage in practical and theoretical investigations and explore dance forms, develop dance ideas, and articulate artistic and aesthetic understandings about dance works in various contexts.
Self-esteem and confidence
Education in dance promotes personal and social well-being by developing students' self-esteem, social interactions, and confidence in physical expression. It is important to note that Dance is now a University Entrance subject and there are many opportunities to pursue dance in the tertiary sector.