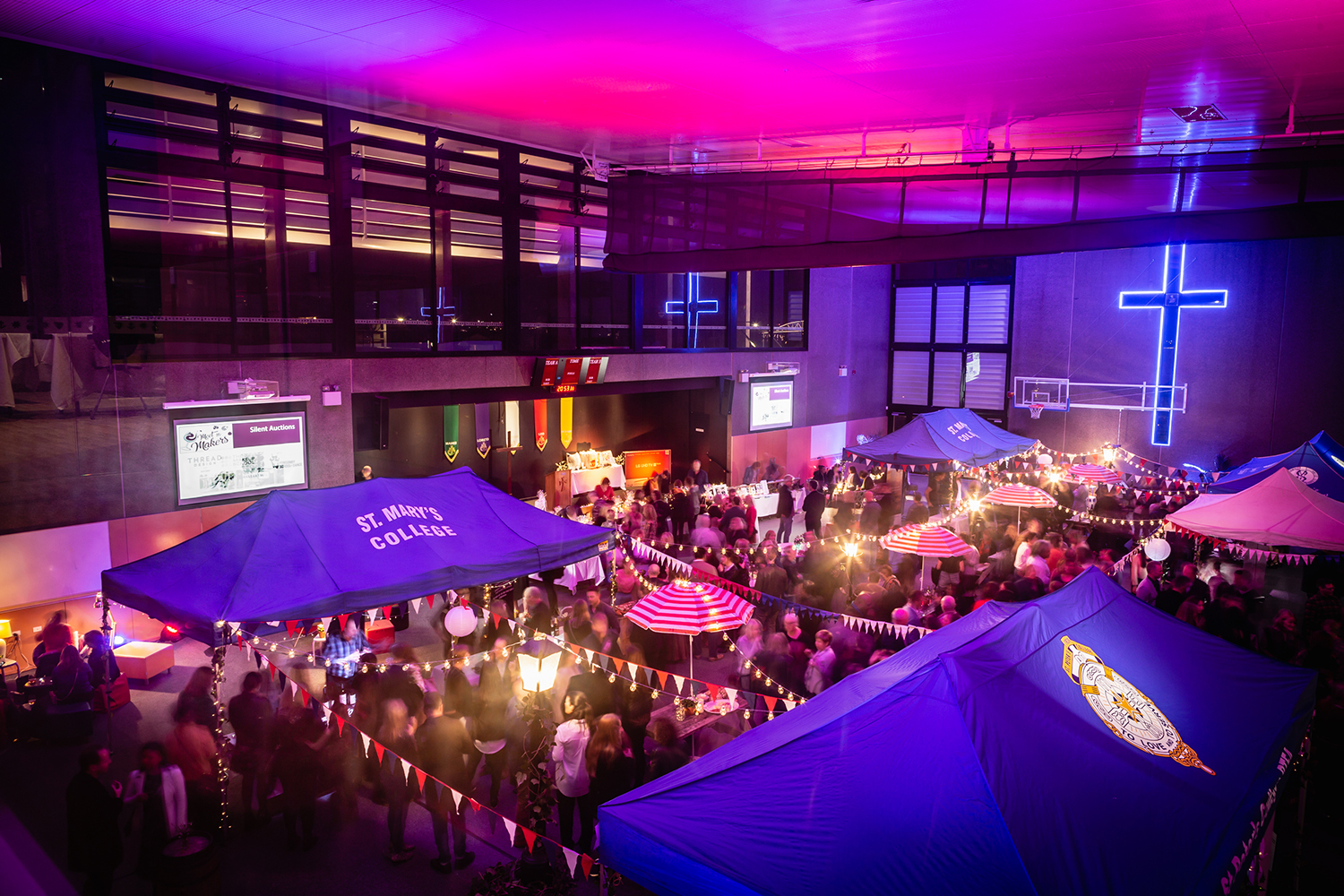 The Parents, Teachers and Friends Association (PTFA) are a group of dedicated parents and friends of the school who donate their time to support the school. Parent participation aims to enrich the school community through the social events we hold. The parents you see serving drinks at events are PTFA members, and you are warmly welcomed by them again at other significant events as your daughter progresses through St Mary's College.
Community and fundraising goals
Our charter is to promote and provide opportunities for families to form a close community. We have fundraising goals, but the planning and preparation of these has a strong focus on community-building. The PTFA are a social bunch, so events are fun, well-organised and rewarding. Opportunities to meet other families, students and staff are especially important for a college. Students become more independent when they reach Year 7 and there isn't the same access to classrooms and teachers as there is at primary school. PTFA events are a great opportunity to develop connections.
We need your support in 2021
We welcome all parents to join us and lend support. You can be involved as much or as little as you like. It's a great way of getting to know the school and other parents, please click here to check out our flyer or please This email address is being protected from spambots. You need JavaScript enabled to view it.. We would be grateful for your time and expertise.
UPCOMING EVENTS:
Year 13 Breakfast - 2021 (Date TBC)
The St Mary's College PTFA would like to thank everyone who attended, supported and delivered our amazing, annual Year 13 Breakfast in the CM Hall earlier this year. This is always a great experience for our girls, and the opportunity to listen to guest speaker, Theresa Healey, was a great experience for them. We would especially like to acknowledge the generous support of our sponsors below; Pandoro Bakery, Albany PAK'nSAVE, Barkers of Geraldine and New World Victoria Park in helping us bring this event together. Please click here to read the event article.
St Mary's College Open Day - 2021 (Date TBC)
Thanks everyone who came along to our Open Day sessions on 5 March. We also thank our wonderful students and staff who worked hard to make this a great day for all visitors. We had hundreds of people turn out for the two sessions of the event, and our senior students and staff provided enjoyable interactive guided tours around our facilities for prospective students and their families. If you missed out on the event, don't worry, you can still get in touch or click here to view our prospectus. For more information please This email address is being protected from spambots. You need JavaScript enabled to view it. or ph one (09) 376 6568.
Twilight Community Picnic - 2021 (Date TBC)
Event details for 2021 will be available soon.
Movie Night - 2021 (Date TBC)
Event details for 2021 will be available soon.
Meet the Makers - Saturday 7 August, 2021
At this stage, we have locked in this date for MTM 2021, we will provide more details soon.
Fundraising to make St Mary's College the best it can be
Our fundraising efforts go towards everything from large infrastructure projects to trips or resources. Here are some of our recent efforts:
Outfitting the Student Café
Technology (computer suites and smart boards)
Donations for the Library, Music, Dance and Drama departments
$80,000 to resurface the Tennis Courts
Curtains in the SM and CM Halls
$40,000 towards a new School Van
Branded umbrellas
Shade Sails for new Playground
Would you like to be part of the PTFA?
We meet twice a term, with dates advertised below and in newsletters. All parents, caregivers, staff, past pupils and people in the community are welcome to join.
PTFA Meetings 2020
Term 1: Tuesday 11 February and Tuesday 31 March
Term 2: Tuesday 5 May and Tuesday 23 June
Term 3: Tuesday 28 July and Tuesday 15 September
Term 4: Tuesday 20 October and Tuesday 1 December
Meetings are held in the Staffroom at 7.15pm
Contact us
For more information, please contact our committee members:
Chairperson: This email address is being protected from spambots. You need JavaScript enabled to view it.

Treasurer: This email address is being protected from spambots. You need JavaScript enabled to view it.
Secretary: This email address is being protected from spambots. You need JavaScript enabled to view it.

Volunteer Coordinator: This email address is being protected from spambots. You need JavaScript enabled to view it.