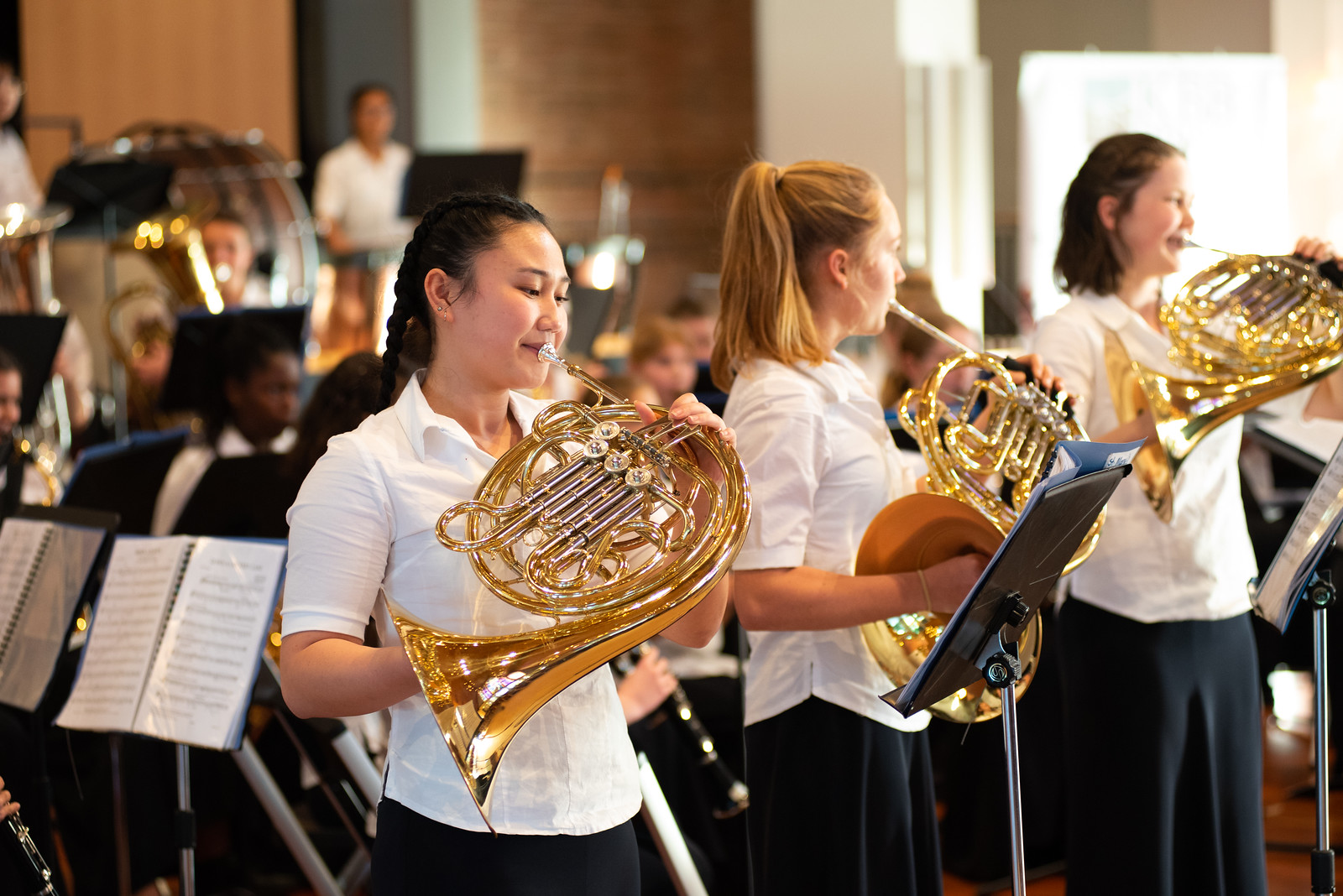 The St Mary's College Music Department is continuing the tradition of Dame Sr Mary Leo by providing opportunities for students to learn a musical instrument or participate in choral singing. Instrumental music is compulsory in Years 7 to 9 and all students learn to play an instrument, have a weekly lesson and participate in an ensemble. All girls have the opportunity to sing as part of the Thursday programme.
The College has a range of extra-curricular ensembles, including; orchestras, chamber orchestras, concert bands, and senior and junior choirs. More specialised ensembles are also available for those more experienced in playing their instrument. All musicians are welcome and encouraged to share their talent and be part of a music group.
Lyn Insley Musical Instrument Hire
Lyn Insley was a past pupil of St Mary's College who later returned to teach music and help develop the Compulsory Music Programme. In 2015 Lyn bequeathed the instruments into a Trust so that availability of good quality, reasonably priced instruments could continue. The Trust seeks to enable and support the opportunity for students to have a classical music education.
Hireage Fee
If you wish to hire a Musical Instrument, please complete and return the attached Rental Agreement to the Music Department. An Instrument Hire fee will be added to your daughter's school account for 2022 and will appear on her main school invoice. You are also able to pay your daughter's Instrument Hire Fee online via Office Max.
The Trust can assist with the repair of instruments. Where this is the result of normal wear and tear, the Trust will cover costs. Where there is damage beyond this, the hirer will be liable. It is highly recommended that the hired instrument be covered by house and contents insurance. Music teachers are happy to give advice on instrument care and maintenance.
Accessories are provided at the start of the year and replacements will be available for purchase through the school. During Orientation Day, your daughter will be allocated an instrument by the Music Department. Confirmation will be sought if you have your own instrument or if you would like to hire one through the school. An email will be sent to parents confirming instrument details. If hiring an instrument, the fee will be added to your daughter's school account and the cost will appear on her main school invoice, which you should receive at the end of each term.


| | | | |
| --- | --- | --- | --- |
| INSTRUMENT | RENTAL PER YEAR | INSTRUMENT | RENTAL PER YEAR |
| | | | |
| Violin (all sizes) | $120.00 | Saxophone | $270.00 |
| Viola (14", 15" & 16") | $160.00 | Cello (½, ¾, ¾, 4/4) | $280.00 |
| Flute | $150.00 | French Horn | $280.00 |
| Clarinet | $150.00 | Oboe | $280.00 |
| Trumpet | $150.00 | Percussion | $80.00 |
| Trombone | $150.00 | Tuba | $80.00 |
| Euphonium | $150.00 | Double Bass | $80.00 |
| Baritone Horn | $150.00 | Bassoon | $280.00 |
Payment Methods
Please arrange payment either through the Kamar Parent Portal or via Internet Banking, details are below.
Kamar Parent Portal
Please click here to access the Parent Portal - enter your User name and Password - click on 'details' then 'financial'. (You can view all of your student's account history here). You can make full or part payments via the parent portal - credit card payments are accepted (surcharge applies).
Internet Banking
St Mary's College Board of Trustees
BNZ 02-0248-0050618-00
Particulars - Enter Student Name
Code - Enter Student ID Number
Reference - Musical Instrument